26 Sep

Italian Design Days @IDS
Vancouver has been in the last years a very important showcase for Made in Italy Design, thanks to the announcement of new projects by local developers in collaboration with Italian companies (e.g. Palazzi di Westbank, in collaboration with Studio Lissoni), and the opening of new showrooms of high-end brands (Poliform, Armani Casa, Stefano Ricci etc.). We will be celebrating the significance of Italian Design in Vancouver during the Italian Design Day @ IDS with a series of engaging events.
Zoom to Zoom with a World Renowned  Italian Designer
The past editions of Italian Design Day in Vancouver saw the participation of architect Stefano Pujatti, founder, and president of the ELASTICOSPA architecture firm; and Studio Boeri (Milan) and their visionary "Vertical Forest" development.
The 2020 edition will be concluded with a complimentary webinar featuring a world renowned Italian designer on November 5th, the day dedicated to the yearly celebrations of Italian design all around the world by all Italian institutions.
---
Activities and Events
Launch of Italian Design Map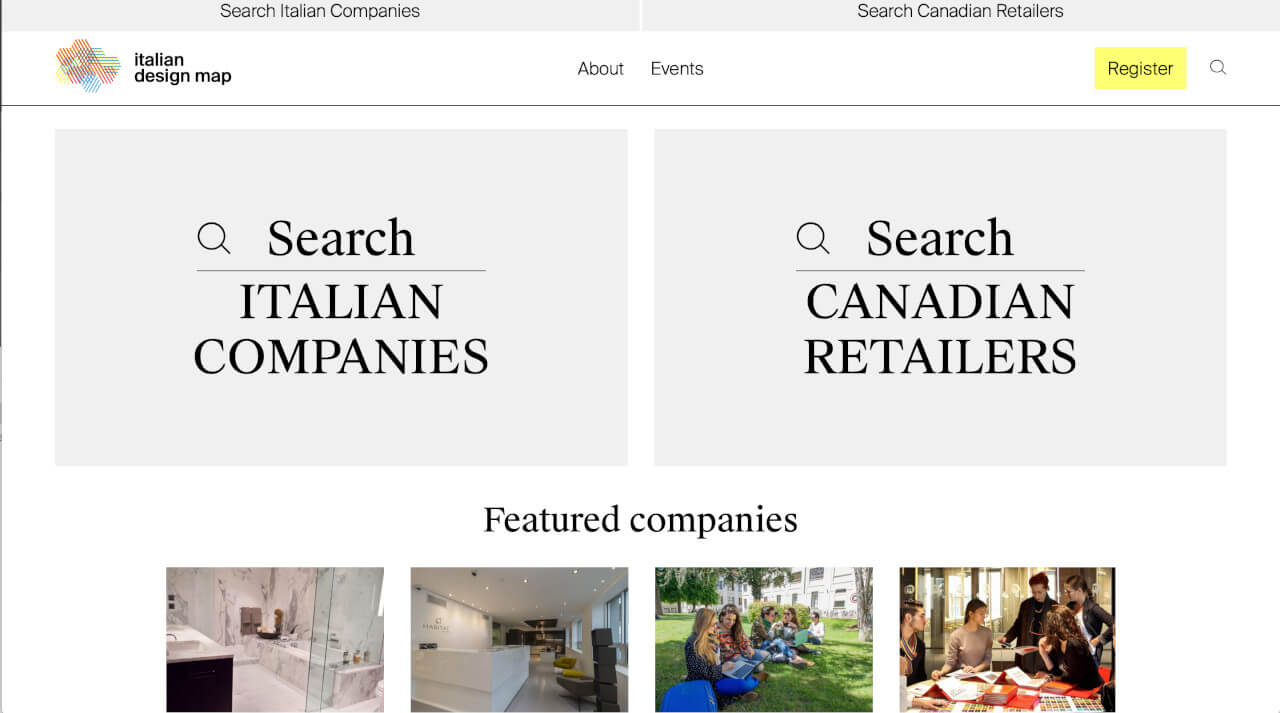 Find more Made in Italy around you!
During Italian Design Days @IDS" the new Italian Design Map website will also be officially and publicly launched. The Italian Design Map is a powerful online tool that features Italian and Canadian businesses and promote the beauty and excellence of Made in Italy design, outside of Italy. The platform provides visibility both to Canadian showrooms and design professionals, and to Italian brands that are not represented in Canada yet, and are looking for representation.

---
Ambry Interiors Open House
WHERE: 395 Alexander Street, Vancouver, B.C.
WHEN: October 1-8
Interior Design 11am to 5pm
(closed on Sunday)

---
Armani/Casa Open House
Check out Armani/Casa latest products and explore the inimitable style of Armani/Casa based on its aesthetic philosophy that focuses on simple lines and perfect proportions, enriched by precious materials, refined finishes, and elegant textiles.
WHERE: 1656 W 2nd Avenue, Vancouver, B.C.
WHEN: October 1 & 6
Furniture 11am – 7pm

---
Cappelleria Bertacchi Open House
Cappelleria Bertacchi designs and produces Italian design handcrafted hats and headwear, and offers service of re-blocking, cleaning, customization, design and creation of custom pieces for special events (e.g. church hats, fascinators).
WHERE: #121-131 Water Street, Vancouver, B.C.
WHEN: October 1-8
Fashion Accessories 11am to 6pm

---
Habitat by AEON Open House
WHERE: #2-425 Carrall Street, Vancouver, B.C.
WHEN: October 1 & 2
Interior Design 9am to 6pm

---
Lightform Open House
Modern lighting you've never seen before. Discover all the newest chandeliers, table lights, floor lamps & more.
WHERE: 129 E 4th Avenue, Vancouver, B.C.
WHEN: October 1-8
Modern Lighting 11am to 5pm (closed on Saturday and Sunday)

---
Montauk Sofa / Valcucine Kitchen Open House
WHERE: 228 Abbott Street, Vancouver, B.C.
WHEN: October 5 & 6
Kitchen 3pmto 5pm

---
Poliform Open House
WHERE: 779 W Pender Street, Vancouver, B.C.
WHEN: October 3-8
Furniture 9.30am to 6pm (M/F), 11am to 5pm on Saturday

---
Italian Design Days @IDS hosts Marina Baracs
With over 18 years of experience, Marina Baracs is the founder of Hotel Design & Consultancy studio in Milan and Partner of LTW Designworks.
WHERE: Online Webinar in collaboration with Domus Academy
WHEN: October 1
Webinar 10am-11am

---
---
Additional Information
If you wish to receive more information about these event or to browse the list of events of Italian Design Days @IDS, please visit www.italiandesignmap.com.
You can also contact us at iccbc@iccbc.com or 604.682.1410 (M/F 9am – 5pm).
For all IDS events, webinar series and digital fair, please visit https://vancouver.interiordesignshow.com.
---
Official Hashtags
#italiandesignday
#italiandesignmap